September 21, 2012
» Pakistani Accused of Blasphemy Over Prophet Film
hundreds of protesters in the city of Hyderabad who rallied against the film that mocks the Prophet Muhammad demanded businessman Haji Nasrullah Khan shut his shops in solidarity.

When Khan refused, one of his tenants said his decision supported the film.

City police chief Fareed Jan said Wednesday the protesters claim Khan insulted the Prophet.

….
Blasphemy is punishable by life in prison or death in Pakistan.
»
Antarctic Sea Ice Sets Another Record
Antarctic sea ice set another record this past week, with the most amount of ice ever recorded on day 256 of the calendar year ….

National Public Radio (NPR) published an article on its website last month claiming, "Ten years ago, a piece of ice the size of Rhode Island disintegrated and melted in the waters off Antarctica. Two other massive ice shelves along the Antarctic Peninsula had suffered similar fates a few years before. The events became poster children for the effects of global warming. … There's no question that unusually warm air triggered the final demise of these huge chunks of ice."

NPR failed to mention anywhere in its article that Antarctic sea ice has been growing since satellites first began measuring the ice 33 years ago and the sea ice has been above the 33-year average throughout 2012.

Indeed, none of the mainstream media are covering this important story.
"Chutzpah, thy name is Charlie Rangel"
»
Congressionally censured tax cheat tells Romney 'Americans pay their taxes, unlike you.'
…. censured by the House of Representatives for a multitude of tax and ethics violations made while he was in charge of writing the nation's tax policy as Chairman of the House Ways and Means Committee …. Rep. Charlie Rangel amended his financial disclosure forms under pressure in 2009 to show "that he had omitted an array of assets, business transactions and sources of income. They include a Merrill Lynch Global account valued between $250,000 and $500,000; tens of thousands of dollars in municipal bonds; and $30,000 to $100,000 in rent from a multifamily brownstone building he owned on West 132nd Street." That wasn't all. "The latest filings come on top of an amendment to Mr. Rangel's 2007 disclosure form reported this week showing that he had failed to list at least $500,000 in assets." The new disclosures doubled Rangel's net worth.
Plausible Strategy ?!?
»
Obama and Second Chances
If the Democrats couldn't hope to persuade the general public that the first Obama administration was a success, then on what grounds could they ask the electorate to give the president a second term?

To deal with this uncomfortable dilemma, Obama's supporters have hit upon a plausible strategy. Admit that Obama's first term was not all that they wished, but that, even so, the president deserves a second chance.
There's a strategy that should make perfect sense to gullidots (gullible idiots). Four years ago they voted for an obvious socialist who had no history, whose speech was littered with Marxist ideology, whose closest friends included terrorists and terrorist supporters, whose mentors were strictly communist, who had absolutely no experience, knowledge of or inclination in economics (other than the economics of socialism as outlined by the likes of Cloward/Piven).
However, tis only fair to point out that the GOP gave us absolutely nothing as an alternative.
That is not the case this time.
» The myth of the 'rock-star professor'
» IG: White House 'Made it Impossible' to Pursue Lead in Fast and Furious Probe
"When freedom becomes inconvenient, Democrats drop it like it's hot."
» TIME FOR RON PAUL FANS TO SUPPORT THE CONSTITUTION
There is no more time for games, no room for hurt feelings. Ron Paul fans, you need to choose, because not voting for Romney is a vote for Obama. It's that simple. And you could make the difference.
Maybe Romney isn't the uncompromising Ayn Rand hero you'd design if you could build your ideal candidate from scratch, but he's a lot better than the guy on whose watch this happened:
~~ via PJ Tatler
Making no choice in this election is a choice – it's a choice for a collectivist who will get two or three Supreme Court picks over a man who picked a guy, Paul Ryan, who understands capitalism and its unbreakable link to human freedom.
Now, this is a two-way street. Romney and Ryan need to reach out to libertarians over their common ground. Fortunately, there is lots of common ground.
No choice is a choice, and with the polls showing a dead-even race every vote that does not go to Romney is effectively a vote for Obama. There's no debate here; you opt out and you support Obama by default. How can any principled libertarian do that?
Don't be the guy in 20 years who looks over his shoulder to make sure no policemen are listening and then says to his kids, "Back in 2012, I was mad because Ron Paul lost and then got disrespected. I loved the Constitution, but I was mad, and so I let the guy who hated the Constitution win. I'm sorry. I am so, so sorry."
»
REPORT: TERRORIST BEHIND AMBASSADOR MURDER 'ALLY OF SORTS' TO OBAMA ADMIN
…. intelligence sources believe that the mastermind of the al Qaeda attack on our Libyan consulate is one Sufyan Ben Qumu …. released from Guantanamo Bay in 2007 to the Qaddafi-led Libyan government …. The Obama administration promptly labeled Qumu an "ally of sorts,"
….
This is the Obama perspective of the Islamist Spring in a nutshell: the administration preferred not to see with whom it was allying, instead hoping against hope that Islamists were good, decent, kind people who could be reasoned with. Qumu was none of the above. And now our ambassador to Libya is dead at the hands of a man we funded.
You Arrrrrrr Gotta Be Kiddin' Me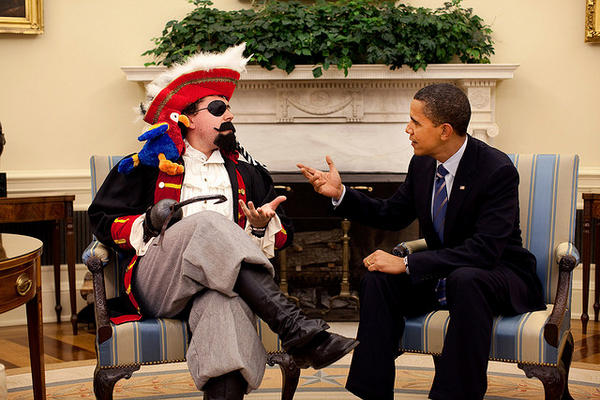 »
@BarackObama Twitter
»
Hydraulic Fracturing: Critical for Energy Production, Jobs, and Economic Growth
Energy production on private lands in the United States has been one of the most promising success stories in recent years, at a time when the country has struggled to grow economically. A large part of the success behind this tremendous oil and gas production and jobs creation is due to an energy-extraction process known as hydraulic fracturing. Misconceptions about hydraulic fracturing abound. The Heritage Foundation's Nicolas Loris explains how, regulated effectively, hydraulic fracturing is safe—as well as necessary for energy production and job creation in the United States.
»
New York Times announces that only Obama will be allowed to approve stories in advance.
It was revealed last week that the Times gave the White House the right to approve details in a lengthy story in advance. Now that the Obama story has run, the Times has realized that that policy may just be a violation of journalistic integrity and quickly announced a new policy that prohibits quote approval. In other words, what's good for Obama just ain't gonna fly for Romney. 'Cause the Times is, you know, impartial.
September 21st, 2012 under Uncategorized.